The beauty of natural stone can't be explained in words. It adds the finishing touch to your house. Types of natural stones include marble, granite, quartzite, cornerstone and much more. To keep it looking beautiful, proper care and cleaning of natural stone surfaces is essential.
Natural stone, like granite, is a porous material and requires special cleaning formulas as neutral cleaners that work great on wood or other hard surfaces can react negatively with natural stone and etch the surface. However, cleaning your natural stone surface with simple dishwashing soaps should be enough yo maintain its natural beauty.
Maintenance and Cleaning of Natural Stone Surfaces
Marble and granite are easier to maintain than you'd expect. Warm soapy water and a soft cloth will clean and shine on both surfaces. You can also clean with a stone specific cleaner formulated to be gentle and effective on stone surfaces. Never use abrasive cleansers, "soft scrub" products, or harsh/acidic chemicals on any stone as these can scratch or dull the polished finish. This includes substances like ammonia or many common liquid cleaners, such as Windex. Also note, too much cleaner or soap may leave a film and cause streaks.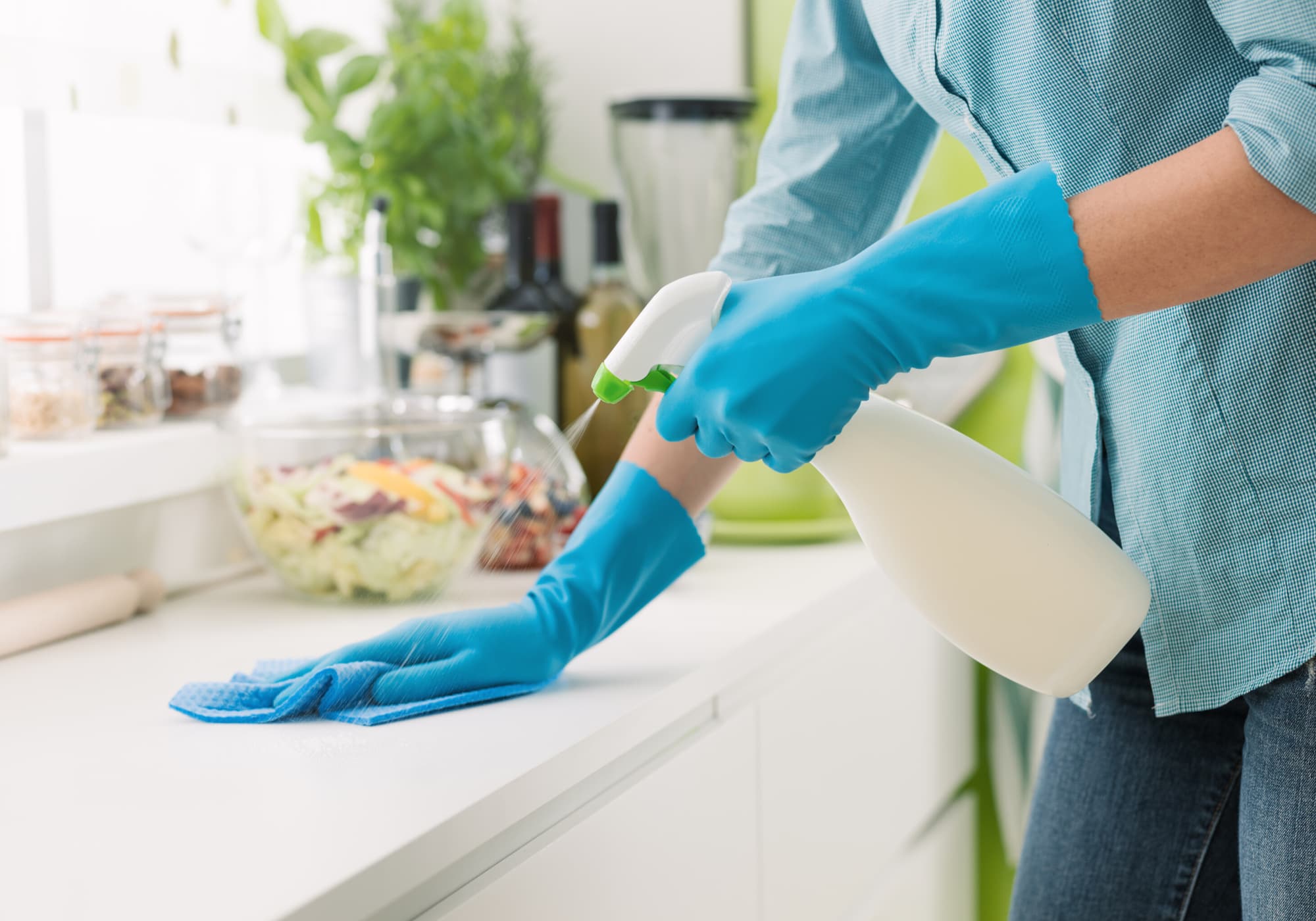 Stains are inevitable, no matter how hard you try. However, quick action can help to keep spills from damaging the stone or the sealer. Here are a few helpful tips on how to remove stain spills:
Oil Based stains
An oil based stains (cooking oil, cosmetics, grease, tar) will darken the stone. To remove it you must use chemicals to dissolve it quickly. Clean gently with a soft liquid cleanser, household detergent, mineral spirits or acetone.
Organic Stains
Organic stains (coffee, tea, fruit, tobacco, food) may cause a pinkish-brown stain and may disappear after the source of the stain has been removed. Clean with 12% hydrogen peroxide and a few drops of ammonia. You can add a few drops of essential oil of your preference to leave a pleasant scent in the room.
Ink Stains
Ink stains (magic marker, pen, ink) can be easily removed too. Clean light-colored stones with bleach or hydrogen peroxide. Clean darker stones with acetone or lacquer thinner. Wipes the surface with a clean, damp cloth to remove any residue. Dry the surface with a paper towel.
Paint Stains
Small amounts of paint stains can be removed with lacquer thinner or scraped off carefully with a razor blade. Heavy paint coverage should be removed with a commercial liquid paint stripper. Caution: do not use acids or flame tools to strip paint from stone. Wash thoroughly the surface with soapy water and dry it with a paper towel.
Sealer is Recommended
After installation, most natural stones will benefit from being sealed with an appropriate penetrating sealing product. This will minimize any absorption of liquids that might stain the material. However, even when sealed, some natural stones are susceptible to staining if left in contact with a substance for an extended period of time. Therefore, all spills should be wiped up as soon as possible. Engineered stone/quartz surfaces are non-porous so you do not have to apply sealer to prevent absorption.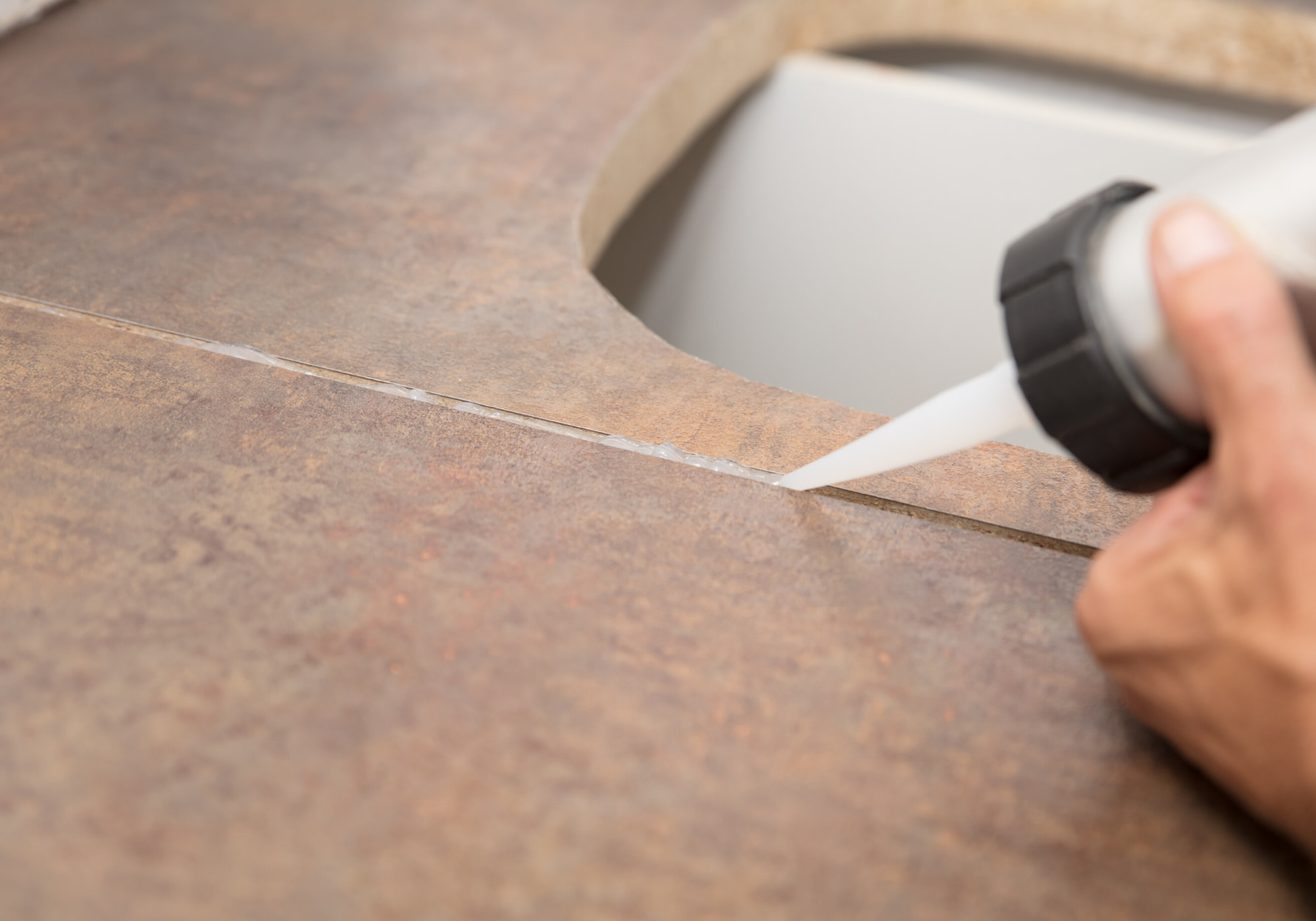 Marble & Limestones Cleaning
Marble isn't quite as worry-free as granite and needs extra care. Polished marble, limestone and travertine can be damaged by acidic substances such as vinegar, citrus drinks, nail polish remover and sodas. These acids can dull a polished surface or roughen a honed finish if not wiped up promptly. Coasters should be placed under beverages to avoid staining and glass rings from occurring. With proper care, marble's beauty will last forever.
Stone Care Products
We offer a full range of stone care products. Please ask a sales associate for more information on which products will work best for you.
Laticrete StoneTech® Professional stone, tile and masonry care products are innovative, easy-to-use solutions to protect and preserve stone against the damaging effects of everyday living. With a complete line of products to protect, clean and transform stone surfaces, we help ensure the beauty of natural stone and tile, countertops, floors, walls and other installations for generations to come.
Dry-Treat™ develops world leading impregnating sealers & enhancers for natural stone, bricks, pavers, tiles, engineering concrete & grout and Hanafinn™ safe, environmentally responsible specialty cleaners.
Take it From the Washington, DC Area Experts
Thinking of remodeling your kitchen? Come find your new countertops at our Lorton Virginia countertop showroom. Call us at (703) 783-2758 to schedule an appointment or contact us online! A&S Home Interiors is more than happy to assist you.