Staining a granite surface is heartbreaking because of how difficult it can be to reverse the effects. If you're wondering how to get one out of your granite countertops, you're not alone. There are a number of substances that can tarnish this natural stone if left unsealed or if spills aren't cleaned up promptly.
It's usually not easy to remove stains from granite, but it can be done. The approach you take will depend upon the type of stain you're dealing with. Follow our simple guide to handle each type stain with at-home remedies.
The Truth About Granite Stains
Granite is a porous stone, making it susceptible to stains from liquids or other substances left to sit on the surface. The liquid seeps into the small holes in the rock, making it harder to remove it. Spills are common on a kitchen counter, but bathroom counters are also prone to stains from toothpaste or make-up.
Polishing and sealing your granite counter is an important part of stone care. The sealant can help you avoid stains because it blocks the liquids from soaking into the granite. Make a plan to seal your granite on a regular basis, but there's an easy way to test if your counters need to be resealed:
Pour a couple of tablespoons of water on the counter.
Let it sit for about 15 minutes.
Wipe it up. Did it leave a dark spot on the stone?
If not, your counter is fine for now. If yes, it needs to be resealed.
For many countertops, resealing is required about once a year, but it varies from piece to piece. It's best to speak with a countertop expert to ensure you're treating yours properly.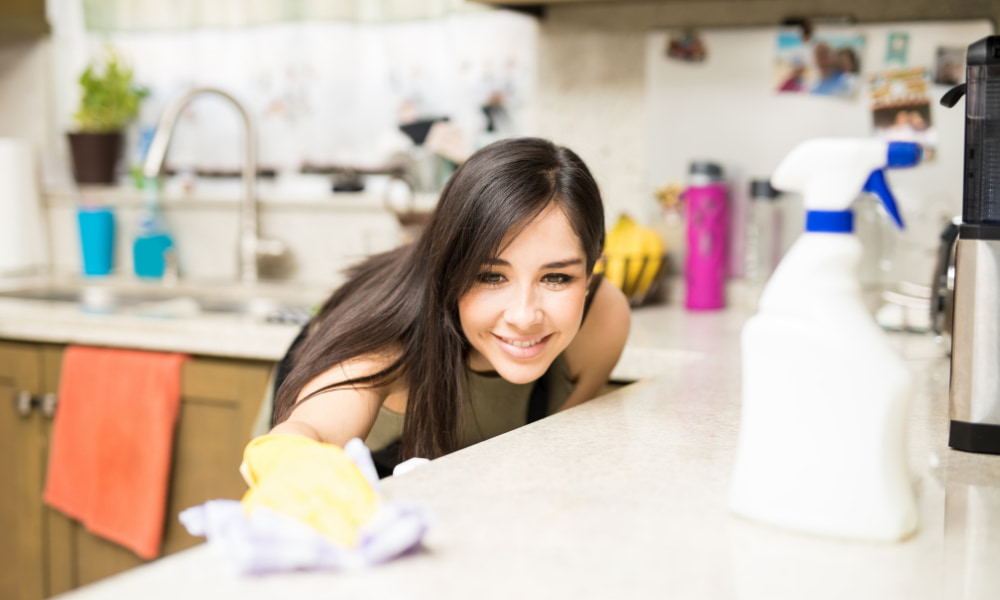 6 Common Types of Stains on a Granite Countertop
From beverages to cooking oil and more, there are several substances commonly used in the kitchen that can cause staining. Here's a look at some of the most prevalent, plus why the substances can be dangerous:
1. Hard Water
Water stains typically form around the faucet. Even water can lead to stone discoloration over time, so it's a good practice to wipe up such spills.
2. Oil
Canola and olive oils aren't the only offenders here. Peanut butter, cream, grease, and make-up can cause oil-based stains on your counter. Grease stains are often difficult to remove, too, so it's best to quickly wipe up the offending substance.
3. Mold and Mildew
If left unchecked, mold and other biological substances can cause staining. They can work their way into the pores of the stone and become difficult to eliminate.
4. Food and Drink
Coffee, tea, wine, fruit juices, BBQ sauce, tomato sauce, blueberries, cherries, and more can cause problems. Organic items like these typically leave brown, tan, or pink stains.
5. Rust
Easily identifiable, rust stains may come from leaving a wet iron skillet on the countertop.
6. Ink
Watch out for marks from pens, markers, and paint.
How you remove the stain will depend upon what substance caused the stain. Some are easier to remove than others.
How to Remove Stains from Granite
It's always best to start with the simplest, least aggressive solution. For some stains — and if you act quickly enough — you can use a paper towel, cloth, or a soft-bristled brush with mild soap. Simply scrub until the stain is gone.
If that doesn't work, a more aggressive or specific approach may be necessary:
Removing Hard Water Stains
This mineral build-up can often be scrubbed away with a brush or scraped off with a razor blade. Create a cleaning paste using baking soda and water. Then, scrub the granite with the paste. Finish the process by washing the area with water. Be sure to dry the countertop with paper towels.
Removing Oil Stains
Cover the spots with baking soda and leave it for 20 minutes. Use a soft, damp sponge to wipe off the baking soda. Another method is to use a liquid cleaner mixed with a few drops of ammonia or acetone.
Removing Mold and Mildew
You may be tempted to use bleach for mold and mildew, but you risk trading your mold stain for a bleach stain. Typically, cleaning products that are made for mold and mildew should do the trick. In a severe case, you may need to consult a professional or purchase new countertops.
Removing Wine Stains
For organic stains, use no more than 1 teaspoon of hydrogen peroxide solution with a little ammonia and thoroughly rinse the area when you're done. Do not pour too much hydrogen peroxide, though, as it can cause discoloration of your granite countertops.
Removing Rust Stains
Rust stains are often permanent, but don't give up without a fight! Create a paste with water and baking soda, and scrub the stain with the paste. If it doesn't work, consider this a stubborn stain and try a poultice application as described below.
Removing Ink Stains
On light-colored stone in particular, hydrogen peroxide is effective against ink and paint. Lacquer thinner can be used on dark stone, but you'll want to speak with a professional for advice before undertaking the process.
Removing Deep or Stubborn Stains
If all of the mentioned solutions failed to remove the stain, you may want to try a poultice on the stain for at least 24 hours. The type of application will depend upon the type of stain you're trying to remove, but here are the basic steps:
Create a paste of baking soda and water along with a solvent appropriate to the stain you're working on (acetone for oil stains, hydrogen peroxide for wine, ink, or water spots).
The consistency of the poultice should be similar to peanut butter.
Spread the baking soda poultice about a half-an-inch thick on the stained area and extend about one inch beyond the stain.
Cover it with plastic wrap and let it sit on the stone for 24 hours.
Take off the plastic wrap so the poultice can dry and draw the stain out of the stone.
After another 24 hours, remove the poultice.
Wipe the area with water and see how the stain is doing.
The good news is that you can often repeat your cleaning process several times before you have to give up, but be sure to consult with a countertop surfaces expert if you're not having much luck.
Recommendations From a Home Improvement Expert
Beautiful granite countertops are an investment, and removing stains is a responsibility often paired with it. If you simply can't remove large or unsightly stains, you may want to consult a professional or consider getting new countertops. When your counters are properly installed and maintained, the granite can last for decades.
For home and business owners in the Washington, D.C. area, the team at A&S Home Interiors is here to help you with all your countertop needs. Contact us today to learn more about how to remove a stain from granite or to ask any other home improvement questions you have.