One of the most significant decisions for your home is deciding on the flooring. Finding the right material and type of flooring for your home is essential to the overall style and comfort. You need to consider everything about your home from who is residing there, what type of traffic you are expecting in your home, and how long you would like your flooring to last.
Whether you are in the middle of a renovation of your home or building, redoing the floors will be one of the most significant projects. There are a variety of materials and types of floors of which to choose. One of these options happens to be porcelain tile flooring, one of the more popular options. If you are not sure about porcelain tile flooring, there are pros and cons to consider before making that final decision.
Know the Pros of Porcelain Tile Flooring
Because this is one of the more popular flooring options, there are several pros to choosing porcelain tile flooring. It is the highest recommended tile option and leads against most other flooring types.
1. Durability
With porcelain tile flooring, homeowners can expect the durability of this flooring type to last much longer than other material options. The porcelain tile derives from refined clay that can handle rooms and areas that experience high traffic regularly and maintain their look and appearance. Many homes experience years and decades of porcelain tile flooring, all while maintaining its pattern and look as it ages.
2. Minimal Maintenance
Some flooring options require treatments to maintain their integrity and last for years. With porcelain tile flooring, there is minimal maintenance due to the texture of the floor. The porcelain is easy to clean and wipes up messes instantly without causing damage to the tile. Plus, there is no annual treatment required to keep the appearance of the porcelain.
3. Water-Resistant
Choosing a flooring option that is water-resistant to some degree is essential, especially for families with pets and small children. Accidents happen in the home, and some types of flooring cannot handle long-term water spills. With porcelain tile flooring, there is more robust resistance to moisture and water that cannot penetrate the porcelain. This is the difference between porcelain tile and granite tile, where granite tile can be damaged over time to moisture cracking the tile.
4. Variety of Options
When you choose porcelain tile flooring for your home, you have a variety of options from which to choose. It is the most diverse option in the tile spectrum, which is one of the reasons it is in demand. Different styles, colors, and patterns are available for porcelain tile flooring. It can mimic other floor types, with some options even appearing to be hardwood. This is great for those who want that hardwood look but the durability and water-resistance of porcelain tile. You can also mix and match porcelain tile flooring for different areas of your home to fit your style preference.
5. Simple Cleaning
Not only is there minimal maintenance for porcelain tile flooring, but daily cleaning on these floors are also simple and easy. Unlike other types of tile, bacteria are not lingering on porcelain tile flooring. This means that a quick sweep and mop daily is enough to keep your floors clean from debris and other harmful particles remaining in the atmosphere.
Cons of Porcelain Tile Flooring
While porcelain tile flooring is a great option, there are a few drawbacks that keep some buyers from making that purchase. As great as this flooring option is, there are a few things to keep in mind. Here is what you need to be aware of before you purchase porcelain tile flooring.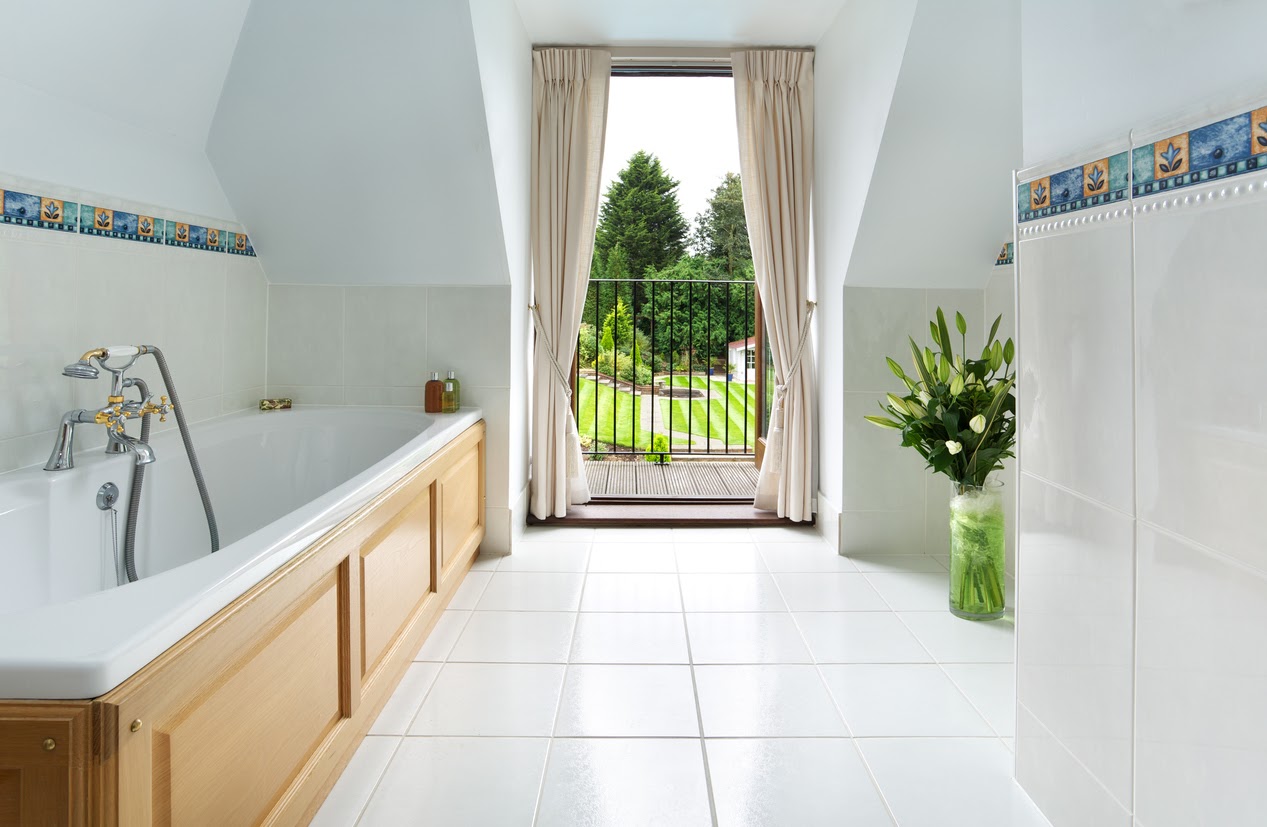 1. The Installation Process
While it may lead to durability and resistance, porcelain tile flooring does not lead when it comes to installation. It is one of the more difficult flooring styles to install. Technicians find it more challenging to cut and lay these tiles because they are heavier than other options. The weight of porcelain tile makes the installation more difficult than other options because the tiles can break if dropped incorrectly. Thus, making this process longer and tedious than other options. It also makes the installation cost increase, further increasing the overall cost of the flooring.
2. Repairing Difficulties
When you choose a pattern for your porcelain tile flooring, you have the same model carried across that room and maybe even your home. Unfortunately, porcelain tiles could become damaged due to blunt force from a heavy object, and the tiles need repair. When this happens, having it repaired can be difficult. A new piece of tile will need to be cut to match the pattern and replace the damaged tile.
3. Cost
The price that comes with porcelain tile flooring compared to other types of tile is higher. This type of tile flooring is more substantial than other tile options and requires more detail during the installation process. Because of its quality and the means necessary to make the floor everything you want, the cost is significantly higher than other tile options. This cost also resurfaces when it needs to be removed and replaced if damaged.
Make the Switch to Porcelain Tile Flooring
Despite the density and installation difficulties, the pros outweigh the cons. The durability and resistance that comes with porcelain tile flooring make it one of the best flooring options. This flooring option allows you to make your home your own with various styles and patterns. Porcelain tile flooring is an excellent option for most households, whether pets, children, or lots of entertainment is happening in your home, choose an option that is durable and can keep up with your lifestyle. Even those without busy lives can enjoy the benefits of porcelain tile flooring when making this investment.
Are you interested in viewing some of our porcelain tile floorings in the Northern Virginia or DC area? At A&S Home Interiors, we are happy to assist you. Give us a call today at (703) 783-2758 to schedule your appointment our visit or Lorton Virginia tile showroom. We can also be reached online with any inquiries you may have. We look forward to working with you soon.