Every homeowner will tell you that you can never have too much kitchen countertop space. Between meal prep, cooking, entertaining, and just storing the things you need to make meals happen, the fight for unoccupied surfaces can be fierce — especially in a small kitchen. Decorations, appliances, utensils, and more often make it tough to declutter and find a free spot for cooking.
Thankfully, though, a small kitchen is just an opportunity to use your imagination to create a cozy environment with enough countertop space to get things done. Here are some of our best tips for working around the limited space problem and maximizing your kitchen prep areas.
1. Use Windowsills
Windowsills work just as well as countertop spaces for storage and decoration because they are flat and often wide enough to hold small or narrow items. That means it might be time to consider shifting those knicknacks, fresh herb plants, and other such items to that often-forgotten ledge.
2. Hang Extra Cabinets or Shelves
Look at the empty space on your kitchen walls, because chances are you are severely underusing it! Take full advantage of blank walls to add shelves and cabinets. Don't forget to use the walls over the door and above the kitchen sink. Adding extra cabinets or shelves can improve the kitchen layout while giving you places to store countertop space-cluttering items.
3. Look Above the Cabinets
On the topic of looking up, don't underestimate the power of cabinet tops! Consider moving items you don't use to sit on top of your cabinets. You can then use the more convenient storage spots for typical countertop space clutter or items you will actually use. Placing decorative elements on top of cabinets also gives your small kitchen's décor extra zest.
4. Discover Extendable Countertops
If you are planning a kitchen renovation, invest in extendable countertops that slide open from under the counter whenever you need them. You can purchase new kitchen cabinets with these extendable countertop spaces or consult an expert to add the extension to your existing elements. The expert can advise you on which will be the better option. 
5. Invest in a Large Cutting Board
The kitchen sink is an underutilized prep space. Simply place a large cutting board over it to fully cover it, and you have one of the least expensive countertop extension options you'll ever find. The downside is the inability to use the sink for the time being, but the temporary countertop space solution works great when you have several people working in one kitchen.
Pro tip: You can use it on the stovetop, too.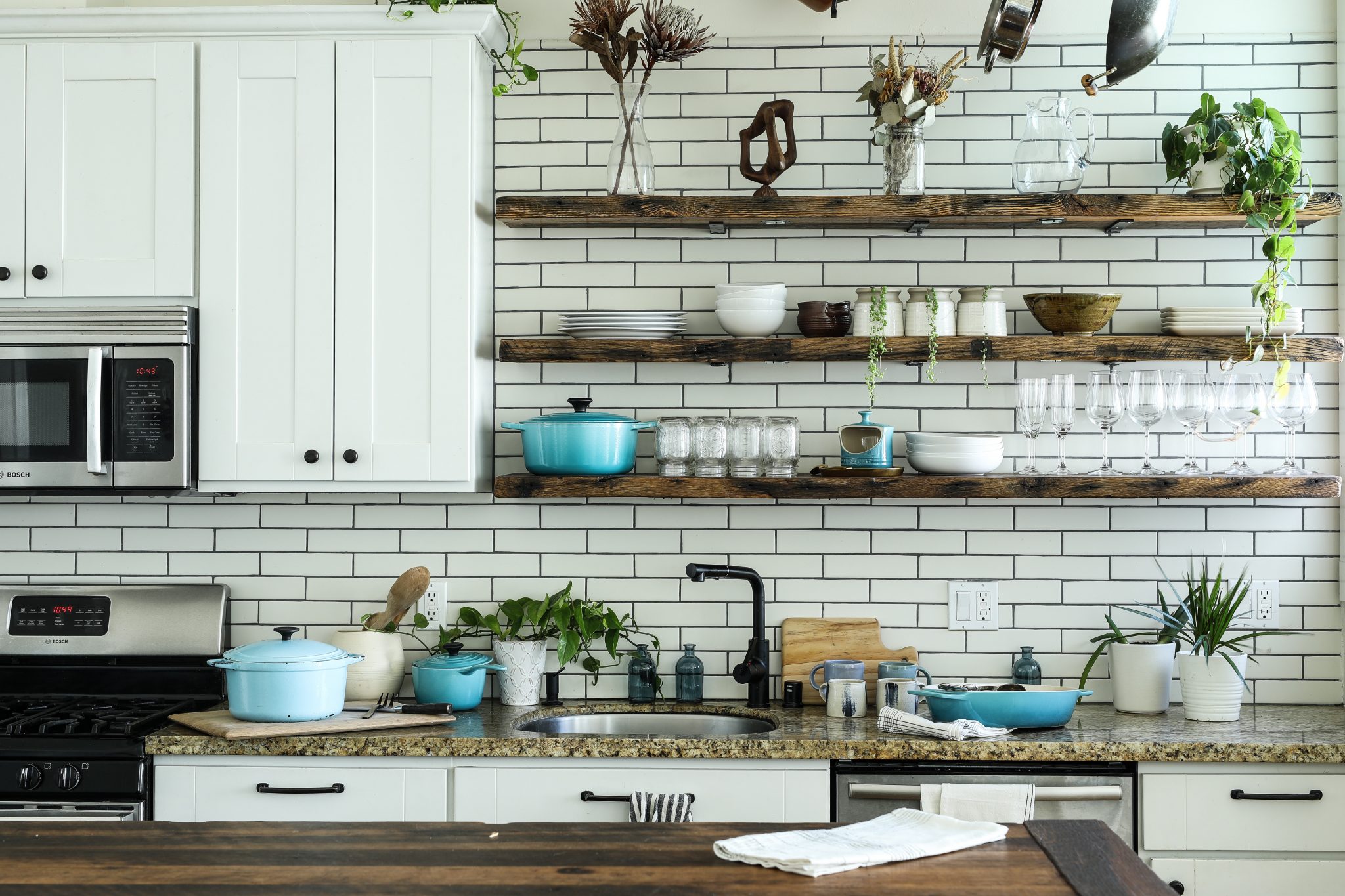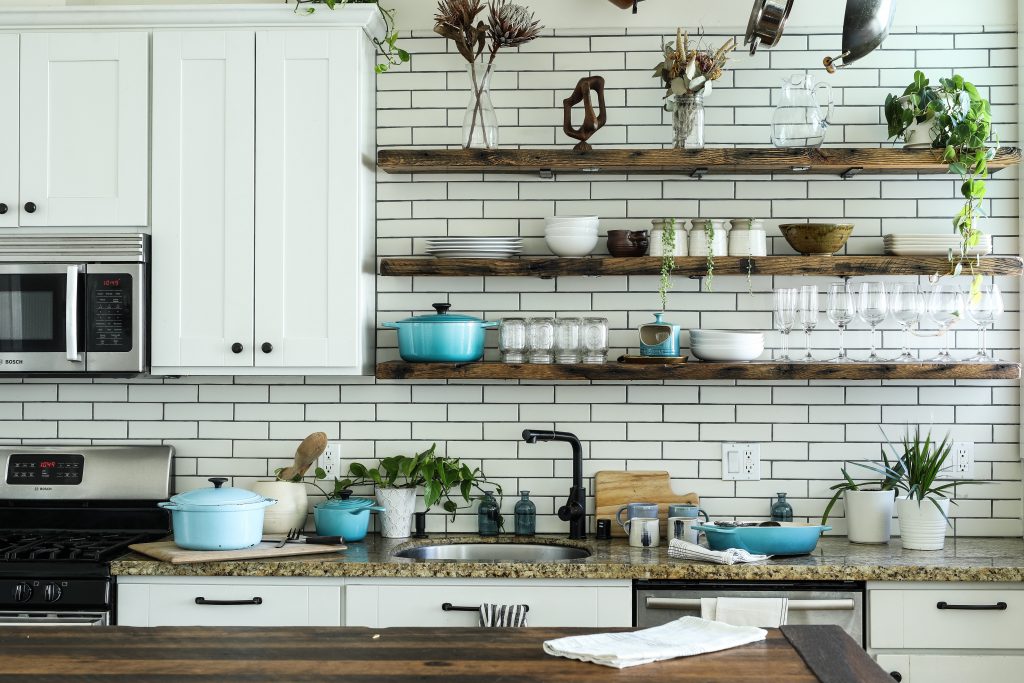 6. Consider Collapsible Counters
Maximize extra wall space by installing collapsible counters, which are essentially fold-down tables that hang on the wall when you don't need them and turn into extra space when you do. You can attach a collapsible counter to the side of your lower cabinets for a temporary, as-needed space extension.
7. Try Tiered Countertops
Adding a second tier to your countertop doubles the space you can use for surface storage and also gives your kitchen an unusual appeal. Adding the second tier to an island can turn into a bar counter, for example, which is both helpful and usable.
8. Hang the Appliances
Appliances like toaster ovens and microwaves can often be hung on walls instead of cluttering your countertop. Food processors and ovens may need you to exercise some creativity, but hanging an extra shelf to put the equipment on can save you a ton of storage space — and make such appliances more accessible and easier to use.
9. Add an Island on Wheels
An island on wheels can give you a lot of extra countertop space while doubling up as a kitchen table, bar counter, storage solution, and much more. You can then move the island around to change its purpose depending on the circumstances, or even remove it from the kitchen entirely when needed.
10. Hang Pots and Pans
Free up some drawer space by hanging pots and pans, thereby freeing up drawer or cabinet space to hide items from your countertops. Hanging cookware from the ceiling can give your kitchen a rustic and unique appearance, for example. If you want to do something less extreme, hang them on the walls.
11. Utilize Backsplash Space
The backsplash space is terribly underused, so don't avoid it. You can hang utensils, install baskets, store knives on a magnetic strip — the list goes on. While you are at it, consider hanging something from the bottom of your upper cabinets, like hooks for coffee mugs or an extra shelf to store dishes and spices.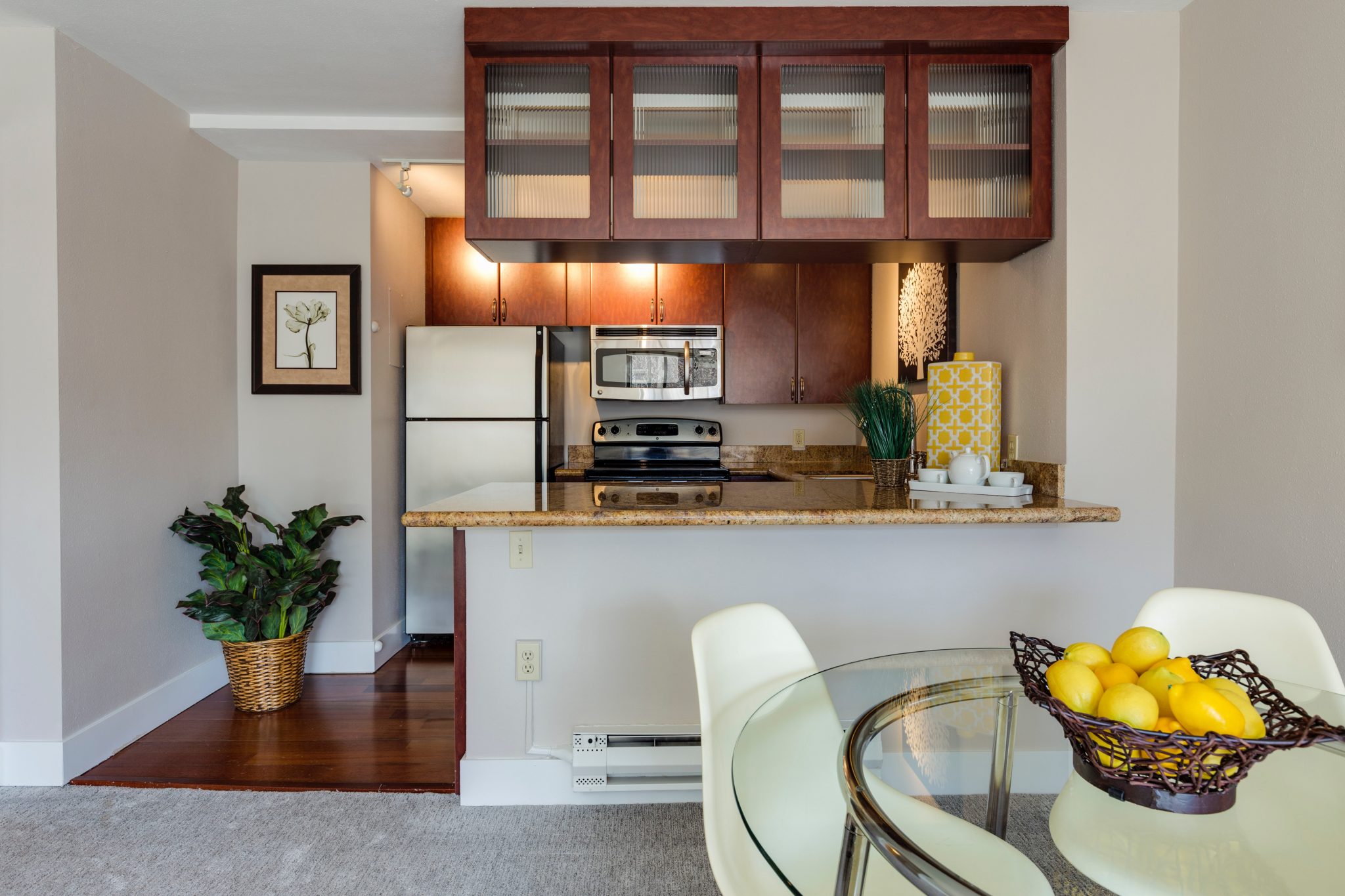 12. Reconsider the Drying Rack
Is your dish drying rack sitting next to your sink? It's time to free up the countertop space by getting one that sets in your sink or lifting your drying rack up. Dishes dry quickly when they have access to fresh air, so don't immediately stuff them into cabinets. Allow cups and plates to stay on a rack above your sink until fully dry.
13. Hide Unused Appliances
How many appliances do you use every day? The microwave and coffeemaker are likely the only ones that enjoy that honor, meaning the rest can feel comfortable sitting in a drawer or on the shelf while you take full advantage of their countertop space. Hiding appliances in cabinets can do wonders for their longevity, too, because it prevents cooking grease and grime from settling on them, thereby increasing their lifespan.
14. Use Your Fridge
If the area above your fridge is empty, it's time to add some storage. Consider hanging cabinets or adding shelves above the refrigerator to free up countertop space.
15. Consider Cabinet Door Organizers
You can hang cabinet door organizers both inside and outside the cabinet to fit cutting boards, spices, and other items that always steal space from the top of your counters.
Ready to Maximize Your Small Kitchen's Countertop Space?
A&S Home Interiors knows that a smart approach to organization and renovation can create extra countertop space in any kitchen, even the smallest ones. If you are looking for more ideas on how to improve your kitchen's functionality or where you might be able to create more countertop space, don't hesitate to contact us. We'll send you a free estimate on your kitchen countertop project. Or visit our Lorton Virginia countertop showroom.