Traditional kitchen ideas never go out of style. These classic kitchen designs stand the test of time because they're rooted in function, and they're versatile enough to be combined with modern and unusual elements to build your dream kitchen. They also make use of a variety of materials such as wood, stone, tile, and metal.
If you're looking for kitchen design ideas for a kitchen remodel or update, take a closer look at nine traditional options in this article.
What is a Traditional Kitchen?
Traditional kitchens are warm and inviting but also spacious and functional. The kitchen cabinets, with furniture-like details and embellishments, are often a focal point and defining characteristic. Rich in decorative elements, traditional style kitchens typically feature distinctive lighting, hardware, and neutral colors. 
To sum it up, a traditional kitchen would come down to these four basic elements:
Furniture-like cabinets
Decorative details (lighting, hardware, crown molding, etc.)
Stone countertops
This differs from a modern style kitchen, which is characterized by sleek lines, flat surfaces, little hardware, and an overall minimalist look. Traditional doesn't mean country, either. A country-style kitchen has a cottage feel and leans more toward rustic bench seating, plank tables, floral, plaid, or gingham patterns, exposed or unfinished wood, and a mix of bright colors.
Traditional kitchen designs never go out of style because they're functional and adaptable. The spaciousness and the welcoming vibe will always draw people to this style, and you can make it your own with a variety of colors, kitchen furnishings, appliances, and more. You could look at a kitchen photo gallery of 100 kitchen designs, and they may all be different. Yet all are considered traditional due to a few specific characteristics that make it a great place to spend time, whether you're preparing food or relaxing with loved ones.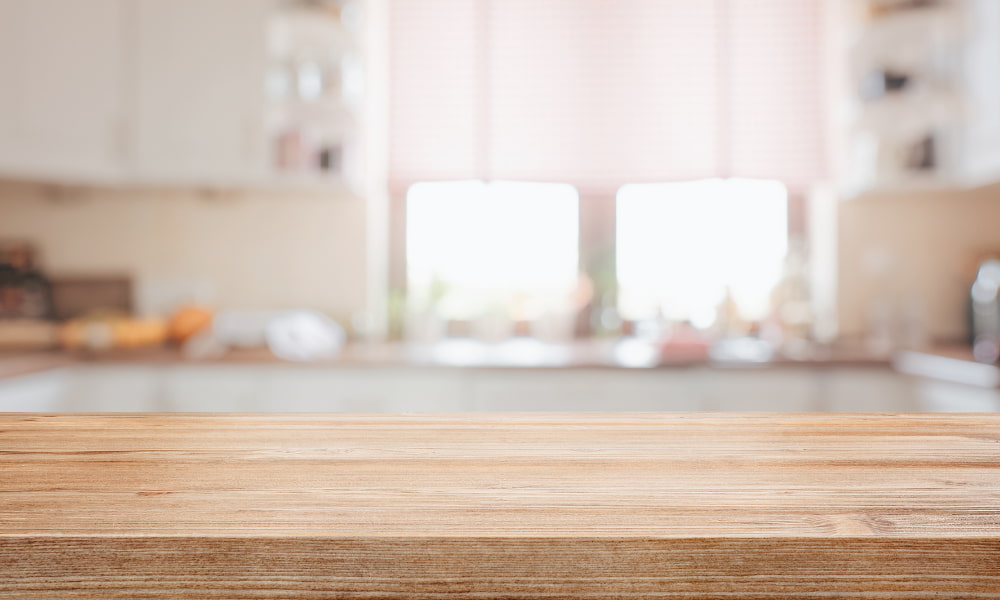 9 Traditional Kitchen Design Ideas
During your kitchen renovation, you may choose to include one or more traditional design ideas to create an inviting kitchen space where your friends and family enjoy gathering over a meal. Imagine how these kitchen designs may fit into your vision:
1. Enjoy a Custom Kitchen Island
The kitchen island is a functional gathering place, giving you more space for meal prep or serving as the location of your sink or stove. A kitchen island is incredibly versatile. You can:
Pull up some bar stools for a breakfast counter
Add custom cabinets and drawers or a wine rack and beverage fridge
Embellish it with the furniture-like details that define a traditional style kitchen
You may choose to match your kitchen island with the same granite, quartz, or marble you used on your other countertops, or you might consider going for a butcher block or another wood island countertop to create contrast.
2. Customize Your Cabinets
Traditional kitchens are often characterized by their furniture-like cabinetry, complete with ornate hardware and lovely details. These are several types of cabinets you could go for:
Glass-front cabinets
Shaker cabinets
Panel cabinets
Other types may have their place in your kitchen design, and you can customize them to include plenty of storage for a kitchen that is both functional and beautiful.
3. Focus on the Fixtures
Details are everything in a traditional kitchen! Fine fixtures and accessories like deep sinks, striking faucets, ornate pendant lights, and eye-catching accessories bring this style together.
4. Paint It White
A traditional white kitchen has a bright, clean look to it, and your white cabinets can feature the hardware and detailing you'd find in a traditional space. While the all-white look is falling out of fashion, you can still incorporate a crisp white into your kitchen with white marble countertops, white tile flooring, or white cabinets.
5. Play With Colors
Even though traditional kitchens often use a neutral color palette, there is still room to play with colors to bring character to your space. Go beyond beige backsplash and use a different color on your cabinets or your kitchen island and perimeter cabinets. Try mixing some rich wood cabinetry and a wood hood on the stove with an antique white finish on other cabinets.
6. Install High-Quality Countertops
Granite or Carrara marble countertops often feature heavily in traditional kitchen design. After all, these natural stones are beautiful and durable, and a traditional kitchen is typically a well-used, lived-in kitchen. A custom countertop can help define your kitchen or pull the entire design together.
7. Explore Unique Tiles
Tile backsplash or flooring can create a unique accent in your space. Available in a variety of colors, materials, and patterns, tile is a great way to add color and texture to a white kitchen, complement those beautiful wood cabinets, or mix a touch of modern flair with your overall traditional design.
If you like the bold tile backsplash trend, talk to a designer about incorporating it while maintaining that traditional look throughout the rest of your kitchen. If you'd like to make an even bolder tile statement, tile walls are becoming popular in both kitchens and bathrooms.
8. Look to Nature for Inspiration
Granite countertops and wood cabinetry are just the beginning. Natural materials like wood and stone lend classic charm. Vibrant houseplants as kitchen decor can help bring in the outdoors. Big windows won't hurt, either!
9. Mix-and-Match Your Kitchen Style
You can create a predominantly traditional space with design elements borrowed from coastal, modern, industrial, farmhouse, and other styles. This is your home, and there isn't any reason your kitchen can't incorporate your favorite designs and looks. A skilled designer can match those sleek modern appliances with unique pendant lights, custom wood cabinetry, and more to create a true dream kitchen that offers that homey feel you're going for with a traditional design.
Bring Your Ideas to Life
Whether you're looking to upgrade your kitchen with new cabinets or countertops, or you'd like to do a complete kitchen remodel to fully embrace a particular style, we can help. With decades of experience serving the greater Washington, D.C. area, we're here to improve your kitchens, bathrooms, and more.
Contact A&S Home Interiors today to speak with an expert about traditional kitchen design ideas for your home.